About Soluparts
EMPOWERING BUYERS
Our purpose is to empower buyers of indirect materials by providing support, consultancy, solutions and commercial conditions to optimize your day-to-day and your department.
We have a close relationship with the customer and we are always concerned with their needs and well being.
Our Mission
Positively exceed the expectations of our customers through a relationship of respect and partnership in the purchase of indirect materials.
Our Vision
Unify all the global spare parts trade in only one modern and dynamic company. 
We are positive:
Our positive and optimistic attitude is what keeps our work environment pleasant and conducive to creativity, productivity, efficiency, companionship and a good relationship between our customers and our team.
We are partners:
Our customers know they can fully trust us. Our work is based on a transparent communication and has the objective to achieve mutual benefits and positive results for both parts. As customers are the reason for our existence, we strive to do the best we can and exceed their expectations on a daily basis.
We are persistent:
Persistence is what allows us to expand our perspectives and go further. We prioritize our development as professionals because we know that it results in a better customer service and the growth and success of Soluparts. We constantly strive for excellence and work to reach our full potential.
We are proactive:
Our proactivity allows us to always evolve, improving our skills and performance. We adopt new habits and attitudes to overcome challenges on a daily basis. We have a watchful eye and initiative to know when to act, anticipating, avoiding or solving future situations and problems in an agile way.
2012:
Soluparts USA and Soluparts Hong Kong are born.
The company is created to offer a more agile service for the purchasing department of large industries, fulfilling a market need. From the very beginning, we have facilitated the purchase of American and Asian products.
2013:
Soluparts office in Germany is opened.
From this moment on, it has been possible to offer our customers better commercial conditions when purchasing European products as well.
2015:
The Brazilian office was opened.
We expanded our services to Brazilian customers, offering better commercial conditions for American, European and Asian products.
2017:
Soluparts Portugal is born, on Madeira Island.
In order to centralize the entire company's operation, Soluparts Portugal was born to offer our customers a unique solution for the supply of American, European and Asian products.
2018:
Entry into the Endeavor Brasil acceleration program.
We were selected among the fastest growing companies in Brazil to participate in the acceleration and mentoring program called ScaleUp. This program was essential for our development.
2019:
The entire operation is centralized at Soluparts Portugal
As of 2019, the entire operation became centralized at Soluparts Portugal, our team doubled in size and we adopted a new strategic expansion plan.
ALEX RODRIGUES
Co-founder and CEO
With over 15 years of work in the import and export industry, Alex Rodrigues founded Soluparts after years of experience in the sales department of large industries.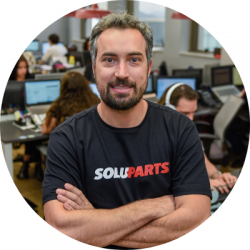 SAULO RODRIGUES
Co-founder and CFO
Mechanical and Mechatronic Engineer by training, Saulo Rodrigues has extensive experience in large industries, in Programming and Management, acquired in his more than 11 years in the market.
UNITED STATES
+ 1 (954) 944-1122
2501 NW 34th Place, Suite B21- B22
Pompano Beach, Florida, USA
ZIP 33069
GERMANY
+49 561 473 967-15
B. Business Center Cologne
Eigelstein 103-113 – 2 Stock
50668 – Cologne – Germany
HONG KONG
+852 3001 6722
Flat/RM A10 9/F, Silvercorp Int'l Tower 707-713 Nathan Rd
Mong Kok Kowloon – Hong Kong
BRAZIL
+55 31 3234-1600
Alameda Oscar Niemeyer, 288 | 502
Zip: 34006-056
Nova Lima – MG – Brazil
PORTUGAL
+351-300-509-069
Rua 5 de Outubro, 86 87 – Bloco C, 1º Andar
Zip: 9000-216
Funchal – Portugal