4 skills to survive in the digital world
Also available in:

Português

Español
Remote work
during the
COVID-19 pandemic
had, and continues to have, a major impact on the workforce. The traditional dynamic between employees and leadership needed to adapt to this moment, responding to a rapidly evolving panorama of cyber threats, in addition to facing challenges related to the remote work culture.
Research indicates that organizations around the world have had to adopt different approaches to managing security risks. While some employers relaxed corporate device policy and showed greater trust in employees, others increased restrictions occasionally, to the detriment of productivity and collaboration.
Remote work has also increased the concern associated with insider threats. Due to parallel IT practices, inadequate security controls, and less visibility into the work environment, there are more opportunities for employees to deliberately or unintentionally expose organizations to risk.
High-profile cybersecurity breaches are increasingly making headlines. Attacks aimed at the financial sector increased by 238% from February to April 2020, with ransomware attacks (attacks in which cybercriminals call for a "rescue" — a kind of cyber hijacking) growing ninefold in the same period.
Along with an increasing focus on managing environmental, social and governance (ESG) factors, establishing a strong organizational cybersecurity framework is becoming more critical than ever.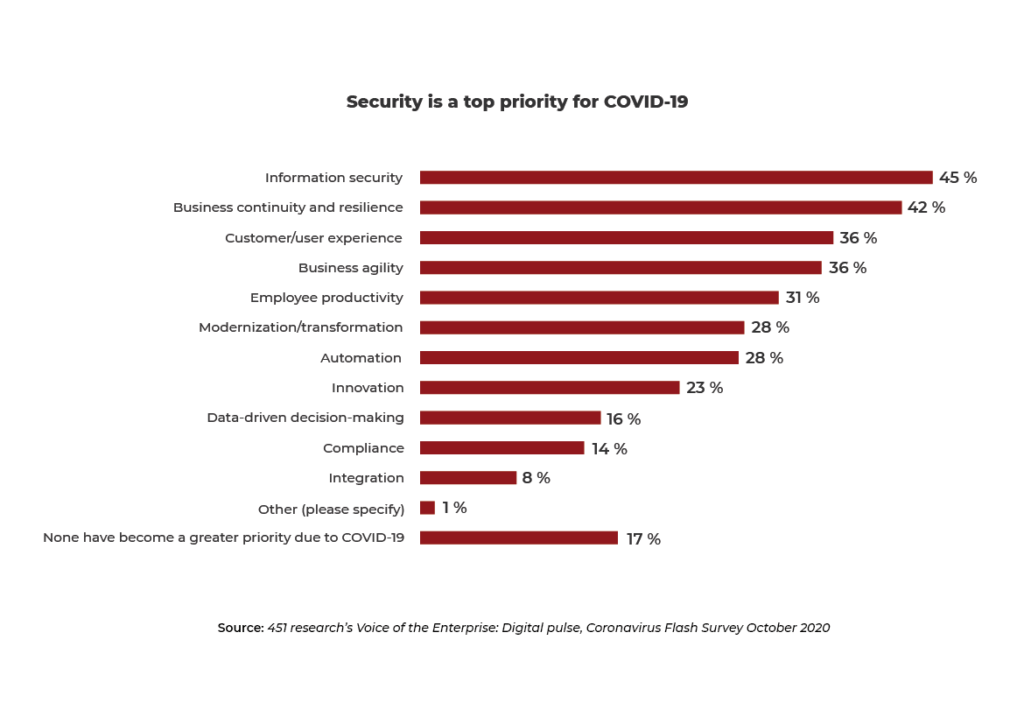 To make decisions that will effectively drive their strategies — and securely — senior executives and boards will rely more on cybersecurity-aware contributors to guide implementation and data protection protocols.
To meet the needs of cybersecurity, employees of organizations must become true cyber leaders and hone four key skill sets:
Skill 1. Take a proactive stand
This means having the basics of cybersecurity in place in your department, such as software usage identity management, antivirus protection, and effective security and access controls.
It also means establishing continuous monitoring to detect threats, both from external agents and from people with access to privileged information (an organization's own employees).
You need to keep up with the ever-evolving threat landscape. This should involve maintaining awareness of breaches in both your own and other industries, considering how they might affect your department, and developing tactics to deal with potential threats.
Proactivity also takes practice. To respond quickly and effectively to threats, regular simulations should be conducted, which allows both the cyber leader and support teams to practice how they should react to a breach.
Skill 2. Seek to listen and understand
To establish themselves as strategic partners, cybersecurity project leaders must be proficient listeners. By listening to and learning about your organization's critical business processes and operations, you can protect them and, if necessary, help restore them.
These cyber leaders need:
A horizontal understanding, identifying functions that are critical to the organization and require greater attention and protection.

A vertical understanding that encompasses cybersecurity principles and implementation measures that protect business operations and address risk

while balancing costs.
With that in mind, you also need to have a clear understanding of your organization's vulnerability. How much risk is your leadership willing to take in balancing customer and stakeholder priorities with the need to protect business operations?
Skill 3. Become bilingual in technical and strategic language
To be effective ambassadors, cyber leaders must possess more than exceptional communication skills, in fact, they have to be bilingual. This means being fluent in technical language as well as the broader strategic language of the board and senior leadership.
As an ally and partner to these key stakeholders, this professional must learn to frame cybersecurity as a strategic investment and a core business imperative, rather than simply a cost center.
Cyber ​​risk carries reputation and legal implications, which can translate into potential costs in the event of a breach. Investing in cybersecurity will help prevent such expenses.
Cybersecurity must be defined as essential, especially in industries where trust is fundamental to business relationships.
By moving from a defensive position to one that proactively enables the company to innovate, organizations will be able to confidently transform themselves in keeping with the rapid changes of the digital age.
Skill 4. Establish a regular dialogue
Cyber ​​leaders must have regular conversations with business leaders and executives so that cyber risk management becomes part of daily decision-making. Ideally, with a two-way dialogue, senior executives will see them as critical partners with whom they share strategy,   needs.
Conclusion
Developing these four skill sets should help develop a clear understanding of cyber issues, instill risk sensitivity in the board, and ultimately help institutionalize a process for board-level risk reduction decisions.
With these four skills in hand, cyber leaders will be able to design effective security strategies in each and every department to be used both within the organization and when working remotely.
In order for your team to be able to invest more time and energy in your cyber risk-management strategy, count on Soluparts to quote indirect materials for you. As you already know, we have access to over 15,000 manufacturers and excellent payment terms. Send us your quote today.