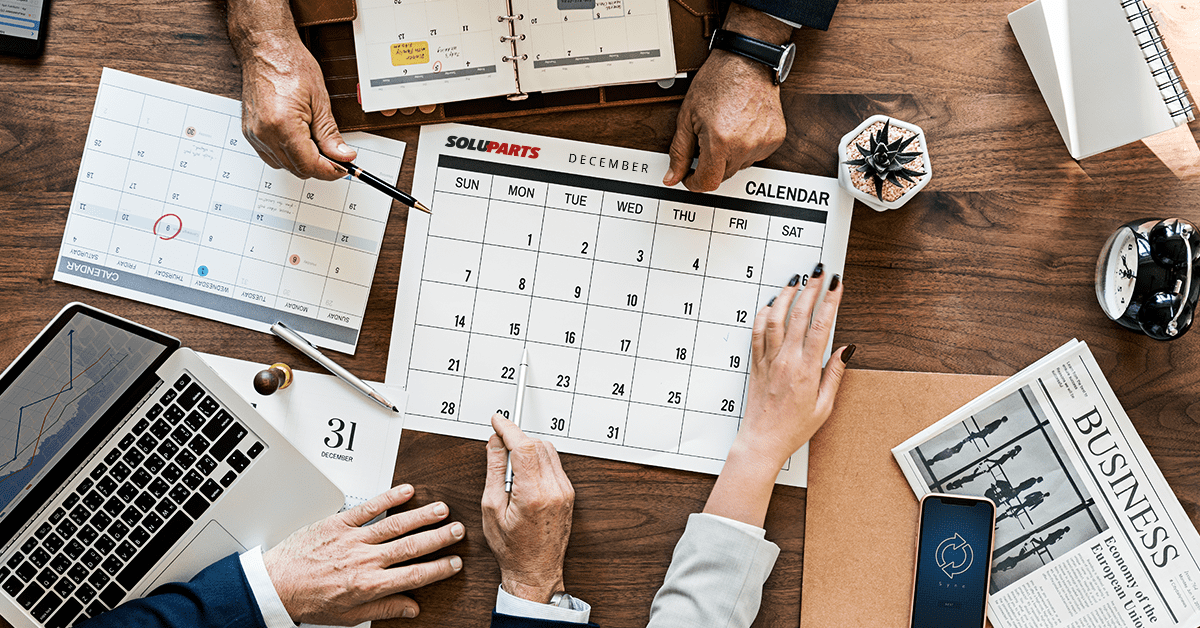 7 tips to prepare your purchasing sector for the end of the year
With the holiday season approaching, it is essential to anticipate purchases of indirect materials: during this period, all sectors increase their purchases so that inventories are not impacted, but in an atypical year with economic impacts due to the pandemic, even more caution and planning and a more detailed risk mapping are needed.
It's extremely important to consider the difficulties that can be faced when importing goods from another country at the end of the year, such as finding an entire city on vacation, for example. The weeks following the holidays can be just as difficult, as many carriers try to catch up on business by invading ports and causing congestion.
In order to have your purchasing department prepared for this period in a way that your production is not affected, we have listed below what steps to follow to anticipate and manage risks and map possible extra costs.
How to plan the end of the year in your company
1- Be careful when choosing the parts' country of origin
During festive periods and the high holiday season, it is necessary to consider your suppliers' cultural habits: each region celebrates new year and Christmas on different dates and in different ways. Paying attention to the duration of recess dates in each place when choosing the supplier of the part can speed up the deliveries.
In the USA, for example, the winter holiday period runs from late November to early January. It starts with Thanksgiving Day, celebrated on the fourth Thursday of November, until the turn of the year, including Black Friday and Christmas. This whole period can make the lead time for a purchase longer than in other months. What may not happen in countries in the Middle East and Africa for example, as we will discuss below.
It's also important to keep in mind that many countries do not consider December 25th as a holiday: Islamic countries (Indonesia, Pakistan, Bangladesh, Turkey, Egypt, Nigeria, Libya, Iran); those who adopt Buddhism as a religion (several Asian countries such as Vietnam, China, Tibet, Cambodia, South Korea, Bhutan, Hong Kong, Japan, Mongolia, Singapore, Sri Lanka, Thailand); India, with Hinduism and China, Taoist culture.
Besides, there are a few countries which present peculiarities in its holiday schedule: in Russia, for example, the New Year is celebrated for 10 days, starting on December 31st. In China and some Asian countries, the Chinese New Year is one of the most important holidays. Depending on the location, it lasts from 3 to 6 days, between the 10th and 17th of February, when all production lines in the country stop.
A good tip is to prioritize suppliers in countries where the recesses are not so different from the ones in your country, in order to minimally interfere with your purchases.
2- Expand your cargo agent options
Another way to prepare for this season is to expand your options for freight forwarders and routes, choosing those that can keep your operations running smoothly.
Question and negotiate deadlines and possibilities and look for companies that optimize their logistical processes for the period, adopting leaner and more practical steps and generating more agile deliveries at the lowest possible cost.
3- Choose a logistics company that offers security
Logistics companies seek to prepare for this seasonal increase in demand by presenting different contingency plans. When choosing a freight forwarder, make sure it is prepared to provide a satisfactory delivery experience.
Evaluate your plans for the period and choose the one that presents the strategy that most benefits your deliveries. This means better organization of your logistics and all the details involved in each delivery.
The logistics company Kuehne + Nagel International, for example, started to warn about shipping products to the west coast of the United States, due to the challenges faced by the ports and terminals of Los Angeles / Long Beach with the record volume of cargo.
UPS is also preparing for the volume of this last quarter of the year: they have leased new aircrafts, expanded their automated package classification capabilities to 400,000 and hired 100,000 people to manage deliveries.
DHL, on the other hand, saw an increase in e-commerce volume of around 35% in 2020, and with the new waves of contagion from Covid-19, it predicts an even greater peak in the holiday season and hired more than 10,000 new employees, in addition to investing in infrastructure, vehicles and cutting-edge technology in order to multiply the capacity of its operations and manage year-end volumes – in this period of greatest demand, a company that can count on the work of robots has a great advantage.
4- Pay extra attention to the tracking number
Pay attention to the tracking code and monitor your delivery closer than you do in other months of the year, so that you can quickly resolve possible unforeseen circumstances and thus minimize delays.
5- Plan purchases in advance
You need to dedicate some extra time to supply chain planning to ensure greater organization during this high season. Anticipate and predict what your parts demands will be, so you don't risk your supplier being out of stock. Reviewing historical data from the same period in previous years will help you better understand market trends.
Pay attention to the year budget that is still available, what are the priorities for that moment and what is possible to postpone to the next year. One of the biggest costs to consider is the potential fee for delays – that is, stay, detention and daily costs. Detention rates are usually assessed per day and per container and may increase dramatically.
6- Have a risk management plan
It is always important to be aware of possible supplying contingencies. Buyers need to proactively mitigate risks and prepare contingency plans, accelerating the response capacity in the event of unforeseen problems in the peak season.
For a purchasing department to be resilient, it is necessary to have consistency, minimizing the time between the unforeseen and the recovery.
7- Track the inventory of your company and its suppliers
Inventory management gains even more relevance during the peak season: with this tracking and control up to date, it is possible to know how many parts need to be ordered and the time needed for a prompt delivery more accurately.
It is at this moment that the safety stock for any unforeseen situation becomes essential. Also remember to check the availability of spare parts at other branches of your company. A delivery to another location within the same organization is usually much faster and cheaper.
Watch out for the international scenario
With the rampant increase in consumption and the raw materials' shortage in many countries, the global supply chains has been negatively impacted, which has caused a delay in demand and even a lack of products in the market.
International logistics is going through a crisis moment, and it is becoming increasingly difficult to find space in containers to ship cargo. When you can ship the goods, you have to pay more, as freight prices have risen exponentially in recent months. Therefore, you need to check the countries involved in the import/export, so that you are not caught by surprise with delays of cargo that may be held up at some port.