Big data: Optimizing the purchasing department
Also available in:

Português

Español
The term "big data" may seem like something you've heard before – and there's a reason for that. Since 2013, the theme has shown a high trajectory in terms of search volume and numerous companies claim to use it in the most diverse areas.

Source: Google Trends
The term appeared in 2005 for the first time, shortly after Roger Mougalas created another very popular term in that period, "web 2.0". As for big data, it is an ability to analyze exorbitant volumes of data, which could never be crossed using traditional data analysis methods.
In 2014, an article in Harvard Magazine argued that this new information processing was capable of changing the world. And how could that be possible?
According to the published material, the key to big data is not in the amount of data available – but in the immense quality of the insights generated from the processing of information using algorithms.
Gary King, a Harvard professor, already cited an effective example of this new way of processing data: that year, Google analyzed groups of search terms by region in the United States to prevent flu outbreaks. Although notable, the professor argued that this was a small fraction of what could be done, if companies were willing to invest in it and analyze their data.
Currently, the search giant in Silicon Valley has announced that it is helping US states to get the COVID-19 vaccine to more people more quickly. This is done through the Intelligent Vaccine Impact Solution (IVI) and has already provoked important results, according to the multinational.
Still, this is not a trend that companies have adopted quickly. In 2013, a study by the North American consultancy Bain & Company showed that only 4% of companies had the right mix of people, tools, data and intentions to gain valuable insights from the data.
Within the supply chain, there are also challenges to be overcome: hiring professionals capable of collecting data, as well as technology to capture and combine them. Still, important benefits can be reaped, such as the ability to project demands more easily, reduce failures, improve management and results.
In general, whoever first joined this trend, in different sectors, did well. According to the consultancy, when analyzing more than 400 companies, it was possible to differentiate them through the following advantages:
These companies are twice as likely to be at the top of financial performance rankings within their sectors

Five times more likely to make decisions more

quickly

than your competitors

Three times more likely to execute decisions as planned
The impact of big data in the purchasing department
Going deeply into the specific challenges for the purchasing sector, the North American consultancy McKinsey cites two main obstacles to the adoption of these tools in the sector: industry leaders have little or no affinity with analysis techniques used by data scientists; and the fact that companies lack a structured process to explore, evaluate and capture opportunities within the sector.
Regarding the potential for benefits to be obtained, the consultancy highlights two:
Expand the data set for analysis in addition to the traditional data maintained in the Enterprise Resource Planning (ERP) and supply chain management (SCM) systems.

Apply highly effective statistical methods to new data sources, combining them with existing ones.
Practically, the consultancy KPMG showed how the supply chains are using this type of technology on a daily basis: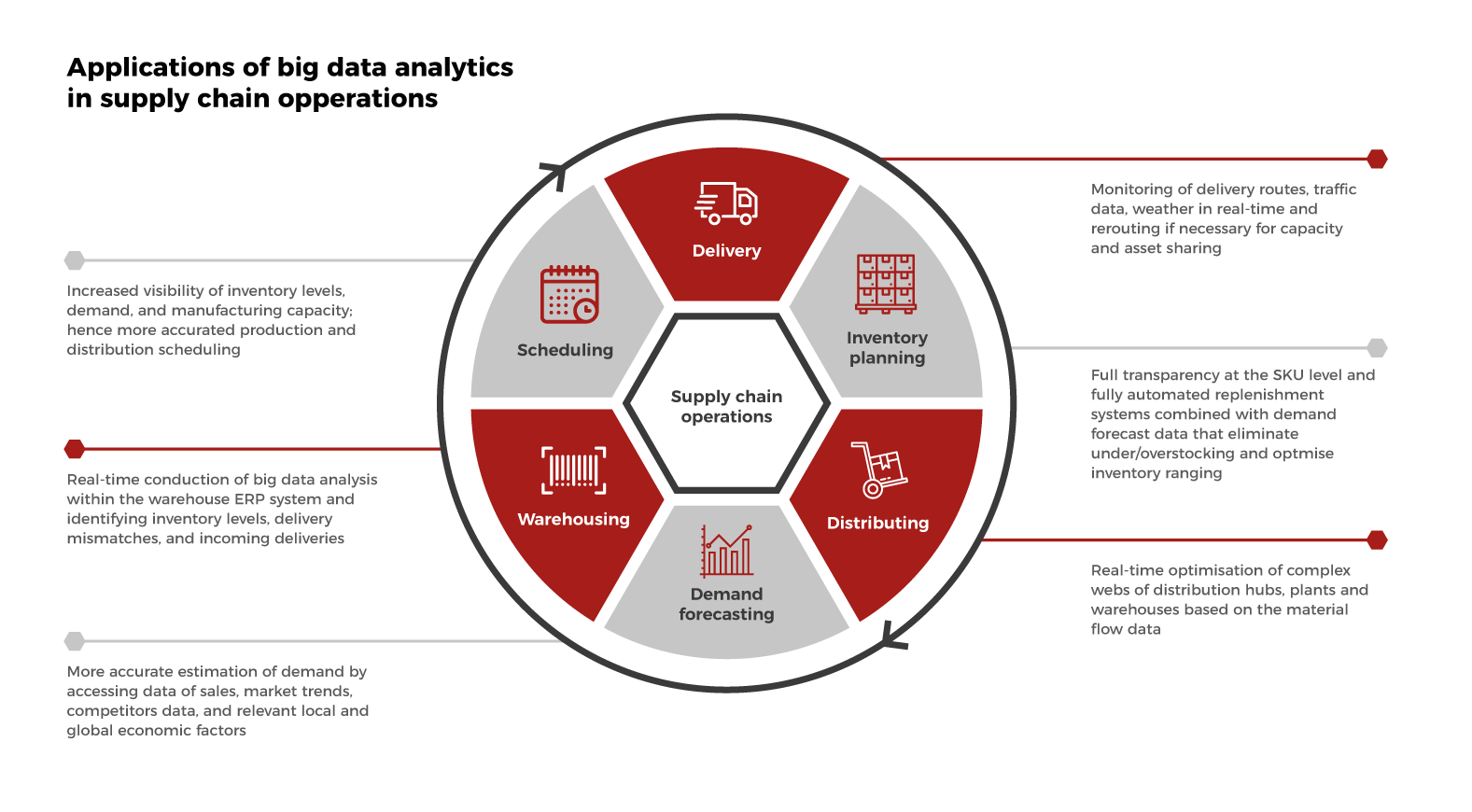 In other words: the supply chain of the future will have algorithms and data analysis as an essential point.
How to deploy? With "maturity models"
How to bring this discussion into practice? Through Maturity Models. There are different approaches as to how this could be done, but a study conducted by researchers on the topic highlights three:
The first is Charles Poirier's model: in 1999, he recommended that four steps be followed:
Supply and logistics: characterized by functional excellence and programs such as reducing

suppliers

, reducing

inventory

and reducing costs;

Internal excellence: use of activity-based costing and process management

Network construction: development of differentiated processes throughout the company and cooperative planning

Industry leader: extensive use of technology tools, supply and demand links and a global view
Then, Carnegie Mellon University defines the following steps: plan, supply, make, deliver and return.
Finally, the model adopted by the researchers, which consists of four phases:
1. Functional focus:
Few supply chain processes and data flows are well documented and understood. Organizational roles, responsibilities and partnerships with suppliers are not well-defined.
Basic information, which is not available across the organization, is collected electronically from many databases with limited access.
2. Internal integration:
Process-specific information is collected and shared within the factory using integrated systems and internal databases.
At this point, partnerships with suppliers are already well-defined and classified. Resources are managed at functional and cross-functional levels.
3. External integration:
The practices are now extended to the interface points with customers and suppliers, identifying the most strategic ones, as well as the main information that the company needs to support its business processes.
In addition, effective process collaboration with key customers is implemented and information is collected and shared electronically with parts of the value chain.
4. Collaboration across the enterprise:
Information technology plays an important role at this stage. Customers and suppliers work to define a mutually beneficial strategy and principles and define performance targets in real time.
Information technology now automates the integration of business processes in these companies, supporting a supply chain based entirely on strategy.
Big data applicability in the purchasing department
In addition to the topics discussed here, it is possible to follow the implementation of big data in the purchasing department through other materials produced by Soluparts. In addition to the core business of the areas and companies, with the adoption of big data, other departments can benefit from the massive and intelligent use of data.
One of them is compliance. Performing audits and standardizing processes can become much faster tasks with the use of data capable of bringing together different sources in one place, for example.
The standardization of processes is also a point that can be helped through big data, since the technology is able to gather structured and unstructured data in a single place.
With a more resilient data adoption policy, organizations also become more resilient. Again, big data is a natural consequence for companies that make the most of the potential of data and invest in Research and Development (R&D), helping them to become increasingly profitable and innovative.
Before investing in big data in your department be sure to read our article with tips to reap good results with the implementation of innovative trends: How to escape the herd effect.