Debunking the 3 myths about women and negotiation
Also available in:

Português

Español
March 8 is the date on which more than 100 countries around the world celebrate the various victories that women have achieved throughout history related to their civil and labor rights.
Regarding the labor market in the last 60 years, women have achieved important and outstanding results worldwide, whether in senior leadership positions in large companies, in enterprises, in politics, in the economic and technological sector, etc.
However, even with all the advances, in the 21st century we still live in a world where some women do not have basic civil rights and in many places the gender issue still interferes in the way women are treated in organizations, resulting in disadvantages in career development, lower wages than men, prejudices, etc.
In order to deconstruct female stereotypes related to the position of women in the labor market, as well as their capacities and performance, in this text we will discuss the three myths that exist about women and negotiation, along with what it is to be a woman leader.
The 3 myths about women and negotiation
According to Andrea Schneider, professor at Marquette University Law School, in her article "Negotiating While Female", the fact that society sees that women do not have negotiation skills is due to the fact that the predominant perceptions about performance are based on gender bias.
1) Women do not negotiate
The myth that women do not negotiate comes from studies conducted in the past that have shown that men start negotiating wages 4 times more than women, and when women do they ask for 30% less than men.
According to Andrea Schneider, these results were achieved based on laboratory studies that had limited resources, and that analyzed confidence and competitiveness instead of a series of other equally important negotiation skills.
These studies point men as more effective when negotiating because they have characteristics traditionally seen as masculine, such as aggressiveness and confidence, as variables for analyzes.
However, more recent and more widespread data in the labor market indicate that this prejudiced thinking is totally wrong, and that they have the same negotiating competence as men when they are fully aware of the situation.
Greater transparency in companies about wages and benefits makes it more likely that women will apply for and receive this treatment on an equal basis.
2) Women should not negotiate
Women are often seen as unpleasant if they are insistent and/or bossy. According to the author, studies show that instead of arguing and insisting on negotiations, it is more rational for them to abstain to avoid criticism and failure.
The act of negotiating is seen as an assertive behavior, a characteristic that, according to the myth itself, women essentially do not have. Following the example of wage negotiation, Andrea Schneider points out that both genders considered that women who negotiated for higher wages were very aggressive, and individuals were reluctant to work with them in the future.
The idea that women must be kind and collaborative – and they must be judged and discriminated against in case they don't follow the pattern – represents the way in which we were socialized. Women can be kind and competent, but they cannot be both.
In 2003, professor Frank Flynn of Columbia Business School conducted the "Women & the Leadership Labyrinth – Howard vs. Heidi" experiment on Heidi Roizen, a great Silicon Valley executive.
The professor divided his class in two; for the first half, a case study developed by Heidi with her name on the cover was delivered; for the other half, the same study was delivered with a small difference: changing the cover name to Howard, a male name.
In the end, both female and male students pointed out that Heidi and Howard were equally competent leaders, but the students tended to dislike Heidi, as they found the businesswoman very aggressive and selfish. Despite her great success, they would not like to work with her. On the other hand, Howard was seen as a great colleague and partner.
The experiment highlights the existence of gender stereotypes that demonstrate how women should be: gentle, caring, helpful, supportive, being judged simply because they are women and not for their actions. Howard was in fact Heidi, and the story and the achievements were hers, however, only Howard was fully respected and applauded by the class.
3) Women cannot negotiate
This myth is based on the assumption that only male assertiveness can achieve success in a negotiation, consequently it is understood that women cannot negotiate as well as men.
However, the author points out that there are 5 skills that contribute to the effectiveness of the negotiation, these being Assertiveness, Empathy, Flexibility, Social Intuition and Ethics.
Assertiveness
Assertiveness is the ability to present strong arguments to defend your point of view, framing and organizing them in a way to make them more persuasive. According to the author's list, this is the only skill that women are seen as needy, however, this argument has no scientific proof.
Empathy
Empathy is the cognitive ability to understand other people even when we disagree with them. According to the author, there is no evidence of the difference in capacity between the genders in this particular skill.
Flexibility
Ability to find different ways to get what you need and adapt to different situations. According to the author, there is no evidence of a difference in capacity between the genders in this particular skill.
Social intuition
Social intuition is the ability to build a successful relationship with your negotiating counterpart by reading verbal and non-verbal suggestions. Body language and eye contact, for example, are mirrored in order to smooth the social interaction of negotiation. According to Professor Schneider, women have advantages over men in this respect.
Ethics
Ethics – a topic that has been much discussed nowadays – refers to both reputation and reliability in a negotiation. According to Professor Schneider, women's interest in social capital and in building relationships are considered an advantage.
All the skills mentioned are necessary to be a good negotiator and, in general, great leaders and effective negotiators will apply them as needed. According to the study's premise, women are judged as bad negotiators for allegedly lacking assertiveness.
On the other hand, they are more effective in other essential skills in relation to men, but the concern that they cannot negotiate is non-existent.
These myths exist because in our society women are penalized when they behave in ways that violate gender norms. Women are able to negotiate, as well as being leaders and to achieving great goals, because they have intrinsic characteristics that help them.
Regarding unfavorable points, they can work to minimize backlash, change expectations and use all other negotiation skills in order to be effective.
In some places, women must still prove on a daily basis that they are as competent and qualified as men to be able to keep up with their duties – even submitting themselves to taking stances considered "masculine" to establish themselves in their fields.
Deconstructing these myths can take generations, but it is important to ensure that the prejudices are erased by the appreciation of what women are capable of.
A vital step for women and men is to take a stand when they witness gender bias and question comments that are made about a woman's appearance or personality, rather than her skills and effectiveness. Ask yourself: do women bother me for reasons that really matter?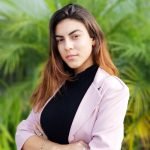 By Giovanna Lana Franco
International Sales Consultant at Soluparts