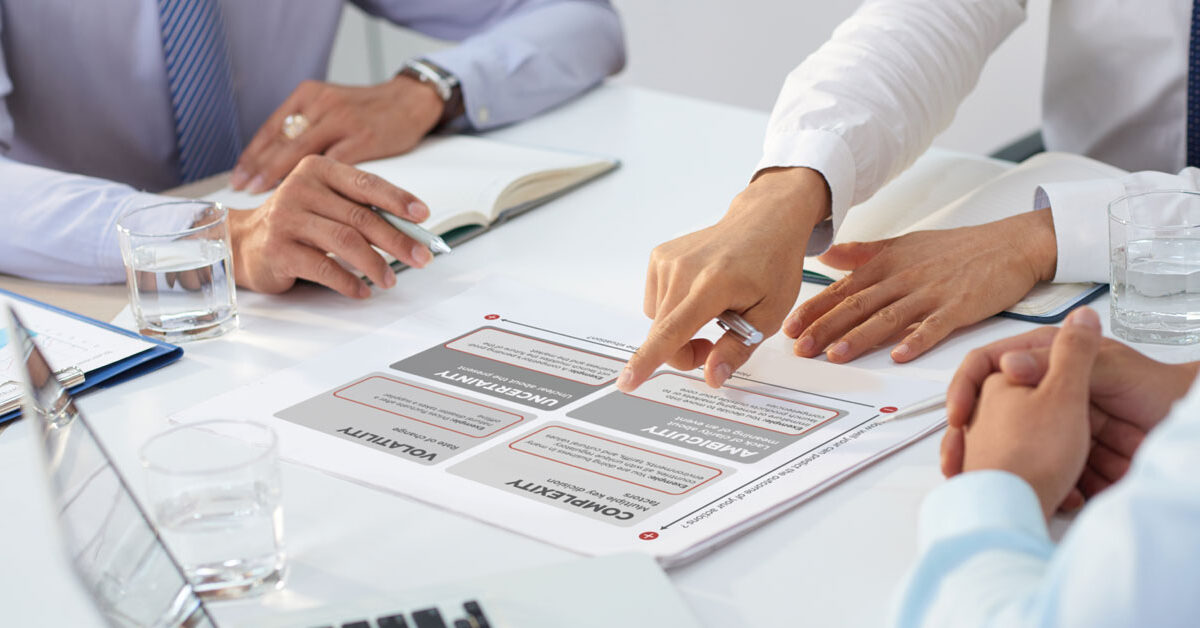 How to implement a risk management strategy in a VUCA world
Also available in:

Português

Español
On the way to stand out in the market, companies are dealing with increasing complexity, not only within their organizations but also outside. The digital revolution, that has connected us to the world and to different agents in a way never seen before, demands us to think quickly about all the changes that we need to adopt in order to continue in the market game.
New technologies and innovations always come with many promises, but they are not always ideal for a company's reality and, if adopted without a previous scenario analysis, the company may end up being a victim of the so-called herd effect, concept, developed by a MIT study in 1992, which you know more about in our blog.
This concept is related to the tendency to use information from other people or companies to make decisions instead of investing in a scenario analysis of our own organization. A big reason for this is the agility that adaptation requires, making the team skip steps when thinking about medium-term strategies.
No wonder that contemporary studies classify the current world as VUCA, an acronym we have already talked about in our article on agile methodology. This new world changes how organizations plan, react to challenges, interact with the environment and with each other, which is why taking it into account in risk management is essential.
Risk management plan
More and more companies are recognizing the enormous need to implement a holistic risk management system. This is especially true in companies operating internationally and in supply chain management. With the proper implementation of this system, challenges can be overcome more easily, despite the increased uncertainty and volatility of the environment.
Great entrepreneurs and executives see crises as opportunities. Major innovations and technologies arose from accidents or sudden changes in paths, which makes us conclude that instead of thinking about the negative potential that risks can bring, we should think about how to incorporate it in the corporate strategy positively and take advantage of the opportunities that the new scenario brings. But for that to happen, it is essential to embrace the VUCA world in which we live.
The VUCA world
The definition of a world that is more difficult to understand and control came not only to define what we are living in, but mainly to help us plan for this new world. Each word in the acronym demands a different category of planning, as explained in the article "What VUCA really means for you" by Nathan Bennett and G. James Lemoine published in Harvard Business Review, which we recommend reading.
It is not because the world is complex that we cannot, through an agile and analytical vision, plan for every possible scenario, preparing ourselves to understand when to be resilient and when to adapt, but always getting ahead.
Let us better understand each feature of the VUCA world, whose intensity grows exponentially, and how we should address them in our planning.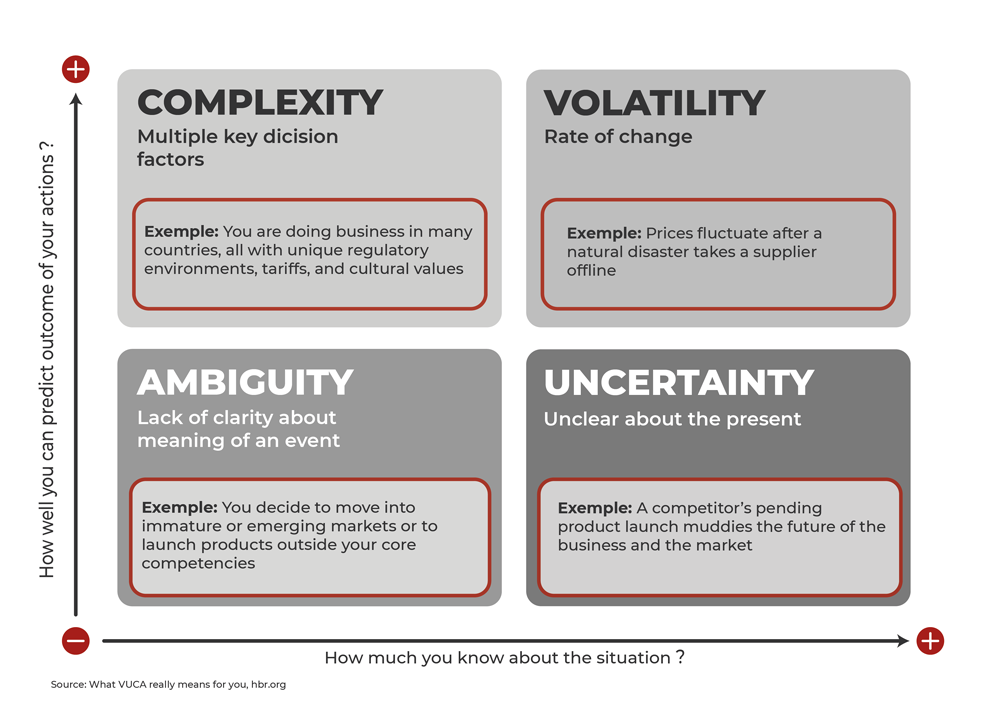 Volatility
It refers to the speed of change that makes challenges unexpected and unstable. It is associated with the short time we must respond to fluctuations in market needs and priorities, that is, to adapt or change course. 
It may require rapid changes in relation to which key performance indicators (KPIs) should be monitored, for example, and even require a change in general goals and objectives in the short and medium term. But for this to happen without major hitches, it is essential that these factors are always clear for all areas involved. 
What we mean is that before a risk containment plan, it is essential that the department's planning has been clearly completed. It is what guarantees the visibility and predictability of processes and demands, providing greater clarity and agility in responding to changes resulting from growing market volatility.
Uncertainty
Uncertainty refers to the extent to which we can reliably predict the future. Part of the uncertainty is perceived and associated with people's inability to understand what is happening in the present, the other refers to the volatility of the world. 
Truly uncertain environments are those that do not allow any forecast, not even those with statistical basis, which does not happen in companies that know how to transform data into valuable information, interpret it in the best way, share it with interested parties and perform predictive analysis of its processes. 
Despite the unpredictability of events, the cause of each event must be known and understood by the company, which can be done through Business Intelligence and Analytics software and a team of qualified data scientists. 
Remember that the smarter a supply chain is, the more information it can absorb to optimize performance and identify potential risks. In this process, sensors connected to the Internet of Things (IoT) are a great ally.
Complexity
Complexity refers to a reality with many interconnected variables, which was amplified by the Digital Revolution. The more factors and agents involved and interconnected, the greater the variety of results and the more complex the environment. 
The need to analyze all these variables within an infinite universe of data, gives rise to the term big data: the ability to analyze exorbitant volumes of data of different natures, which could never be crossed using traditional analysis methods. 
An article in Harvard Magazine goes further by saying that the key to big data is not the amount of data available – but the immense quality of insights generated from its processing using algorithms.
To learn more about big data and how it can be adopted in the purchasing department, visit our article Big data: optimizing the purchasing department. 
In a world with high complexity, with millions of variables, it is impossible to fully analyze the environment, but it is possible to analyze those variables that have the greatest impact on the organization and those that are fundamental to achieving the main objectives established in the planning.
Ambiguity
Ambiguity refers to the lack of clarity about the new reality or new variants. A situation is ambiguous, for example, when information is incomplete, contradictory or too imprecise for clear conclusions to be drawn. It mainly refers to unprecedented situations that require unprecedented analyzes and conclusions, making the interpretation of this new world challenging. 
For the responses to new situations to be efficient in the VUCA world, it is essential to adopt agile methodologies that increase the company's response speed. If before they were followed only in software development projects, now they are fundamental in various departments of the organization. In our blog, we have already covered the topic and how to implement it in the purchasing department. 
To understand the new reality, it is necessary to experience it in some way, that is, to experience it. It is no wonder that several pilot programs pop up in organizations for parallel testing that do not affect the core operation. 
Include in your planning programs to test new methodologies or technologies, and, if possible, rely on predictive analytics to choose the programs whose success will give the best return on investment and include them in the budget of the area. Design them so that lessons learned can be applied sustainably in your department.
Data analysis: essential in the VUCA world
As noted in this article, risk management must be supported by data analyzed by technological tools capable of producing meaningful reports that present a company's overall risk situation in a way that reduces complexity. Technology support enables immediate countermeasures even in a dynamic and volatile business environment. 
Every organization has a multitude of data related to its activities; the secret is to know how to use this data in your favor. It is noteworthy that before an effective data organization is necessary to understand the objectives, goals and KPIs of your department. 
With well-organized data and well-defined goals, it is possible to make predictive analysis of problems with suppliers, economic crises and identify the best time of year to get parts with better prices from a particular supplier, for example. The measure can reduce costs and generate more efficiency – contributing to the financial health of the area as a whole and the organization.
Conclusion
The world will no longer go back to what it was before, but instead of despairing, the path is to adapt our gaze to the new scenario. Purchasing department planning and risk management strategies must be designed taking this new reality into account, and agile methodologies and resilient processes must be implemented. It is the role of risk management to ensure the company's long-term success, despite the growing challenges of a VUCA world. 
It is worth keeping in mind that, by their very nature, the risks that arise in a VUCA environment are not static and their impact on the organization is dynamic and may decrease or increase over time. In this way, it is not enough to identify them, they need to be monitored. 
It is essential to have technological advances in our favor. Data analysis software must be adopted, and IoT technology must be used to continuously monitor the real-time purchasing process, reducing response time to changes. 
Soluparts also helps you to mitigate the risks of your purchases. With our help, you can compile all your purchases of indirect materials in just one partner: we negotiate the best prices and terms with several suppliers around the world for you. Send us your request for a quote and try our services.