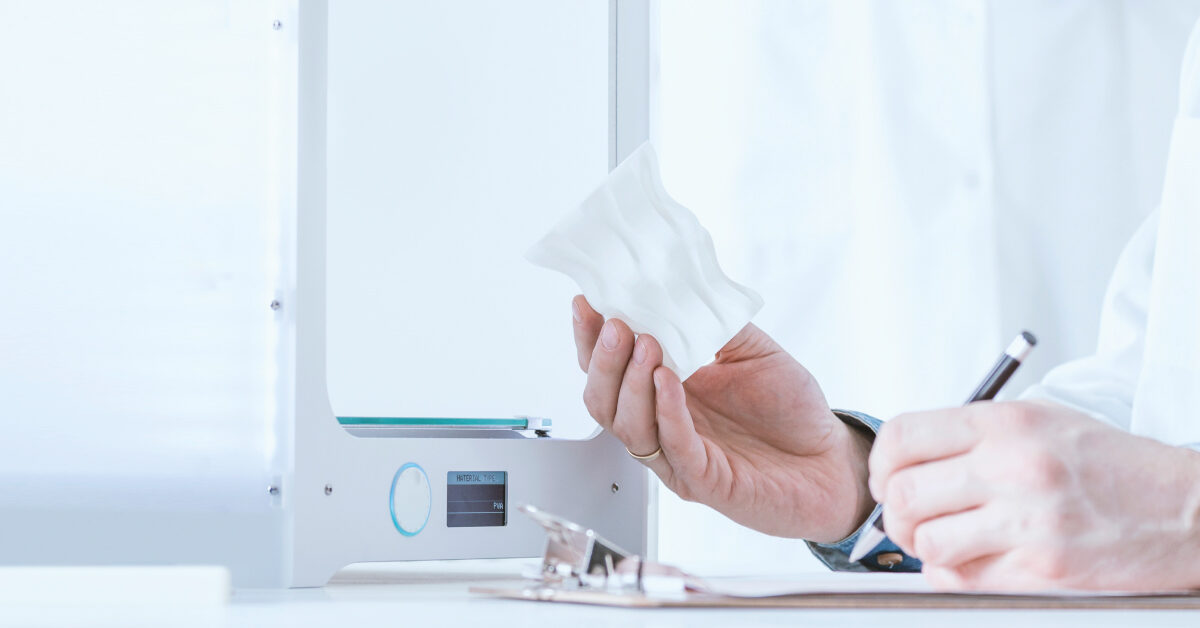 The impact of the 4D printer on the international market
3D printing technology has been around for nearly 30 years. However, while the industry is still discovering new applications, materials and printers, another technology is already starting to gain traction: 4D printing.
But how is it possible to add a fourth dimension to printed products? In 4D printing, a 3D-printed object is transformed into another structure through the influence of environmental stimuli such as light, wind, and temperature.
The 3D Printer
3D printers can print any kind of thing using three-dimensional printing technology. The materials used in printing are usually plastic resin, laser modeling and metal frame. By reading specific files for its operation, it is possible to create the most diverse types of objects, such as decorative pieces, food, and even tattoos.
In addition to being fast, the printers do not have toxic materials in their manufacture, and the materials used for printing do not deform over time. The equipment, which was already used by large companies, was available to the public at a high cost, but the price has been gradually decreasing, and today there are already very affordable models on the market.
When it was created, about 10 years ago, it was necessary to pay around 30 thousand dollars to acquire the technology. In 2009, it could already be found for five thousand dollars and today, it is possible to purchase a simple traditional model for less than R$700. This popularization allowed the purchase not only for industrial production, but also for personal use.
3D printers are also being studied for medical purposes. Shoes and insoles designed especially for people who suffer from orthopedic problems are some possible creations.
Scientists have also presented models capable of reproducing three-dimensional human tissues and bones, which can help — in principle, without side effects — in a variety of treatments.
How 4D Printers Work
4D printing, developed by MIT (Massachusetts Institute of Technology), emerged at the MIT Self-Assembly Lab and, although there is no consensus on it, some say that designer and computer scientist Skylar Tibbits coined the term 4D Printing in this context.
What is the fourth dimension?
Simply put, what 3D printers do is repeat a 2D structure several times, layer by layer, until a 3D volume is created.
Using a 3D printer, the institute's scientists created a technique capable of generating three-dimensionally printed objects that can change shape over time, this being its fourth dimension.
So the big advance of 4D printing technology over 3D is its ability to change shape even after it's ready.
This transformation is possible due to the programmable and advanced materials used by 4D printers, which can change the behavior of objects over time.
The most obvious advantage of 4D printing is that objects larger than printers can be printed as just one part. Because they can shrink and unfold, items that are too large to fit in a printer can be compressed and then become full size.
At the current stage of development of 4D printing technology, printed materials use a special type of ink that reacts when in contact with water. It undergoes physical transformations that alter its shapes and dimensions. For everything to work, the material to be printed is carefully calculated and formatted according to the transformations scientists want to obtain.
From there, the printer creates the three-dimensional object, applying a special substance at key points in the structure. This material absorbs water, which ends up causing it to undergo the changes that were previously calculated. Over time, these changes noticeably change the appearance of what was originally printed.
The so-called self-assembly is intrinsically related to 4D printing and can create objects that react to external stimuli to obtain specific results.
A team of researchers from ETH Zurich developed a shape-memory, temperature-resistant object. Flat 2D structures turn into three-dimensional shapes when in contact with hot water, which triggers shape change.
Despite being a relatively practical idea, the complexity of 4D printing lies in the search for other materials that match the desired stimuli.
In principle, what is needed for something like this to come out of the paper is a 3D printer even more complex than the current ones, capable of applying circuits and microchips to its printed results. With these circuits, the objects could interact with each other so that they would organize and assemble themselves.
The Future Impacts of the 4D Printer
4D printing can greatly impact the market. Clothes that increase or decrease in size, compact objects that reach their real shape when removed from the box, prostheses that accompany the growth of the body: those are just a few examples of what 4D printing will be able to do to benefit the population.
Both society and the environment will be positively impacted by the reduction in consumerism, programmed obsolescence and the generation of garbage, thus contributing to sustainable development.
This new way of printing promises to revolutionize the world of materials as we know it today by stimulating the research and development of programmable raw materials capable of reacting to triggers and thus transforming themselves.
The impact on the purchasing department
A common reality in several sectors is the existence of equipment or machines that the manufacturer no longer offers the option of repairing — either due to changes in the production line or even the disappearance of that manufacturer.
3D printing of off-line spare parts is already making a big impact on different industry sectors, by reducing purchasing and storage costs and maintaining equipment quality for longer.
Thus, we can conclude that 4D printing offers an even greater possibility for the company itself to produce replacement parts for its machinery, due to its technology being even more advanced.
How can a company prepare for this reality?
Some say that 4D printing would be the "fourth industrial revolution", after all, if we can program a machine, why can't we program objects to assume a certain shape on their own?
But this reality is still only a possibility, partially utopian and still far away since the intelligent materials discovered come at a very high cost.
Despite all its potential, 4D printing still requires more research and development, and it's not available to everyone. In some laboratories or prototyping facilities, the technology is already used.
Most likely, in some time, we will come across 4D-printed objects without even knowing it, as in the case of adjustable medical implants or running shoes, for example.
Thus, preparing for this new reality requires research and adaptation on the part of companies, because as possibilities arise for objects to self-assemble and self-model according to requested conditions, the tendency is that some sectors may become obsolete.
There is still a long way to go until this novelty becomes present in our daily lives, however, with faster technological advances, we must, as end consumer and companies, be aware of this and keep up with the changes!