Also available in:

Português

Español
The impact of the digital world on the supply chain
There is no way back: digital disruption has transformed the world, demanding companies to adapt, exploring new digital solutions and adopting digital strategies. According to Mckinsey, this strategic mindset switch is capable of multiplying the return on investment in the supply chain by four.
Digital technologies such as Big Data, Analytics, Artificial Intelligence and Machine Learning help optimize processes, have a more assertive decision-making, build an entirely digitally connected supply chain and have a comprehensive overview of it, among many other benefits.
---
The impact of artificial intelligence on the supply chain
Artificial intelligence has been helping build a more digital world for longer than you think: in the 1950s, a generation of scientists and mathematicians already had a clear idea of ​​what this concept would be. The highlight is Alan Turing, who prepared a study called "Computing Machinery and Intelligence" in which he discussed how machines could be smarter and how it would be possible to test their progress.
Seventy years later, the subject's popularity is on the rise due to the COVID-19 pandemic, with different companies competing to adapt to new digital models and generate efficiency. Within these efforts, there is the supply chain sector. With spikes in demand generated by the social isolation and the difficulties of transportation around the world, data can be quite a support in everyday life.
This includes, of course, artificial intelligence itself: a broader concept of creating machines capable of thinking like humans. No wonder, a survey conducted by IBM shows that 46% of purchasing executives say that artificial intelligence and cloud applications will be the biggest areas of investment in digital operations in the next three years.
In a recent McKinsey study of investments in artificial intelligence, some companies interviewed, in various sectors, claim that at least 20% of their EBIT (earnings before interest and taxes) already comes from applications related to AI. At least half of the companies say they started using this type of application during the year 2020.
Within the supply chain, the study shows that the functions in which these new applications are most used involve optimization of the logistics network and improvements in inventory and inventory management. We have discussed topics like this before on the Soluparts blog, addressing the use of immersive technologies as other trends in supply chain.
Supply chain applications
But after all, what is the role of robots within the supply chain? How to be prepared for the purchasing department 4.0, and how does artificial intelligence fit into this?
This whole process is part of an intelligent supply chain, capable of bringing at least three benefits: greater efficiency, transparency and better dimensioning of demand over time.
In this context, artificial intelligence assumes a prominent role, in which leading companies in the sector have already invested -at least since 2018- in the automation of repetitive tasks ranging from issuing purchase orders, invoices, contract management to the administration of global processes. According to a Harvard study published three years ago, predictive analysis was already seen as a trend within the industry, capable of improving demand forecasting and improving costs.
In addition to these factors, sensors on machines are added to identify when maintenance will be required and even the use of blockchain to adjust flexible supply networks – but this is the subject of another article. For now, a key concept related to the application of artificial intelligence within the supply chain sector is that of digital control tower.
Applied to leading companies since before the pandemic, according to Harvard University, it consists of providing end-to-end information about global supply chains. This "tower" is nothing more than a control center that works every day of the week and, based on information viewed in 3D and graphics, it is possible to control delivery and stock problems in advance.
Creating this is not an easy task. A recent Oxford study provides detailed information on the subject and, to summarize, provides information that a basic artificial intelligence infrastructure depends on different data sources.
In addition to the traditional ones, such as ERP and customer management systems, this type of intelligence also needs data from physical products: sensors on products, labels, locations and machines. In this set, the internet of things (IoT) plays an essential role, since it allows a physical object to be linked to digital platform using a unique identification.
Benefits of artificial intelligence
The fact is that technologies like these are not a passing trend. A 2019 study by McKinsey that examined more than 400 artificial intelligence use cases in 19 sectors shows that use in supply management and marketing / sales accounts for the majority (two-thirds) of all AI opportunities globally.
Within marketing, for example, artificial intelligence can create $1.4 trillion to $2.6 trillion in value annually, and within the supply chain sector, those amounts can reach $1.2 trillion to US $2 trillion in product supply and manufacturing.
Challenges in applying artificial intelligence in supply chain
Investing in these technologies is not an easy process. The study mentioned above shows that the lack of confidence in artificial intelligence algorithms – which reproduce biased behavior according to the human biases implicit in the data – is one of them, as well as the lack of "success cases" in the sector: while automation has clear benefits and shows a segment with a clear return on investment, some points such as risk assessment, are more challenging as they do not yet have well-defined metrics to measure them in the short term.
In addition, the scarcity of qualified labor to support companies is a major challenge. As these are new applications, it is necessary to wait some time so a significant number of people is trained to deal with the technology.
Faced with this scenario, Harvard researchers raise the question: in a future with end-to-end automated processes, the need for human work will be minimized.
So what will become of humans in the supply chain? The need for "reskilling", or to be trained again, will be a fundamental point to guarantee jobs.
Analysts capable of drawing insights from the data, using digital tools and being familiar with algorithms will be part of the new routine that the sector must face. Still, there is no clear vision as to how these jobs will be rearranged – it is up to the companies in the sector to design what they want for the future and, from there, to design the new roles that the sector should have.
The fact is that the collaboration between both of them must be essential (and the machines will not completely replace the human role within the operation). In short, at least three new lines of work must be created:
The "trainers", able to build AI projects from scratch and make sure they work;
The "explainers", who will take the insights from the data gathered by the machines;
The "supporters", able to assess the availability of the systems and ensure that they are not down.
Focus on the future
The future is already part of the strategy: a survey conducted by the Accenture Strategy already shows that 90% of supply chain executives believe that their workforce will adapt to digital technologies and 92% say that they will be able to work with intelligent machinery more naturally.
But we must warn you: before adopting the new technologies and innovative processes, evaluate and understand to what extent the investment will pay off in the long run if applied in your specific scenario. Learn more about this feasibility analysis in our article.
To learn more about other technologies that will shape the industry's behavior in the coming years, read Soluparts articles on smart applications within the supply chain.
---
Machine Learning: cutting-edge technology in favor of the supply chain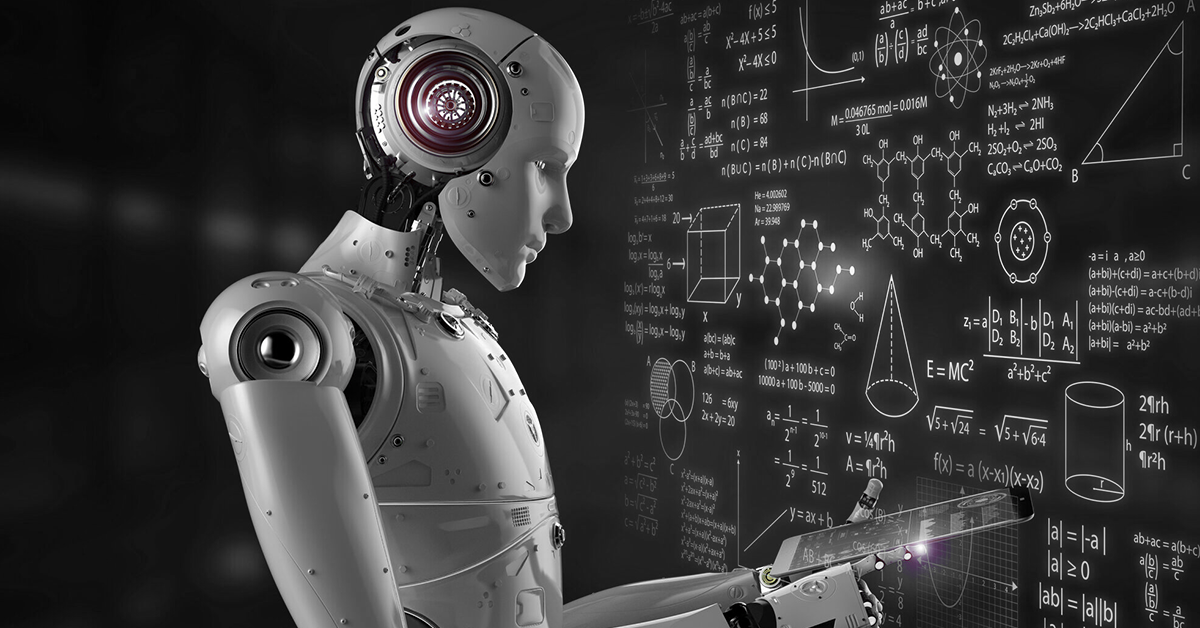 Artificial Intelligence, Machine Learning and Deep Learning enable changes in standards in every field of action we can imagine – and are even helping the industry when it comes to supply chain: from procurement, payment, planning and production to the arrival at the final destination – optimizing the processes in a brand-new way.
A subset of artificial intelligence, which allows an algorithm, system or software to be able to learn on its own from tests on a data set, without having been programmed to do so – that is how the concept of machine learning can be defined.
From observations and data obtained through use, machine learning trains a computer model, combining predicted and real results. In this way, the more information is exposed, the better its functioning and assertiveness when it comes to carrying out its tasks autonomously.
Deep Learning
Deep Learning, on the other hand, is a more advanced version of machine learning that emerged in 2010, in which computers are taught to learn for themselves how to perform tasks like humans, including image identification, speech recognition and predictions.
This technology makes it possible for the computer to recognize patterns in various layers of processing, instead of just organizing and executing data. This set of algorithms model high-level abstractions composed of linear and non-linear information.
The relevance of these technologies grows more and more due to their diverse advantages. In the age of information technology, where complexity only increases, agile and efficient logistics processes play a central role.
It is no coincidence that a study by McKinsey in 2019 shows that deep learning is expected to bring annual gains of $3.5 trillion to $5.8 trillion for companies worldwide.
The importance of Machine Learning in the supply chain
In the case of supply chain, we are dealing with large amounts of complex data. With Machine Learning, you can analyze this information and use the findings to improve your management: as products move, the system is able to compare this data to the company's history in order to identify possible delays and make suggestions for speeding up the chain, for example.
Seasonal trends are some of the data that can be used to forecast specific demands and manage manufacturing and supply. We need to keep in mind that supplying good, quality products is essential in this sector, and with machine learning we can enhance the chain functioning by monitoring its process to avoid defects and errors in delivery.
Another positive point of this technology is the possibility of analyzing all the documentation necessary to deal with suppliers, leading to better agreements and more effective management.
Practical advantages of using Machine Learning in the supply chain
Clearly, at least five operational benefits are present in the day-to-day supply chain, according to Louis Columbus in an article published in Forbes:
More accurate inventory control
With algorithms and from applications that run them, with Machine Learning, the analysis of large and diverse data sets is done quickly, which optimizes the accuracy of demand and reduces forecast errors.
Thus, there is no need to maintain a very large inventory volume, as the product flow is constantly updated and monitored in real time. Another interesting point is that the inventory level analysis also identifies when products are losing popularity or becoming obsolete.
Cost reduction
In addition to reducing storage costs, by encouraging improvement in the quality of control and reducing waste, there is consequently a decrease in expenses. Machine Learning also improves logistical performance, with a better choice of routes, modal and cargo agent, for example, minimizing risks of delays and costs.
Also considering the maintenance schedule and performance history of the equipment, automatic learning avoids improper operations of machines with low performance and acts as a reminder of scheduled maintenance, always seeking to minimize operating costs.
High performance
With trained models capable of continuous learning, it is possible to gain insights from the analysis of large and diverse data sets to improve the performance of supply chain management, improving the accuracy of demand forecasting from an end-to-end perspective – especially excellent in a rapidly changing post-covid-19 world.
Quality inspections
Machine Learning excels in visual pattern recognition, generating many potential applications for physical inspection and asset maintenance across the supply chain network. Result: quality and automated inspections for robust management without the occurrence of human error.
Through IoT sensors combined with machine learning, companies are extending the service life of their main assets, including machines, engines, transportation and storage equipment, finding new patterns in the collected usage data.
Facilitated administrative practices
Supplier relationship management is simplified from the history and data provided with each purchase. To facilitate the quotation work, for example, it is possible to generate a standardized electronic spreadsheet for all the company's suppliers.
Fraud reduction
By automating inspections and audit processes based on real-time analysis, the algorithms are able to increase the quality of product delivery and reduce the risk of fraud, as they detect anomalies or deviations from normal standards quickly.
Another example is that such a tool also prevents the abuse of privileged credentials, one of the main breaches within a supply chain.
How to get there
Software that integrates systems between suppliers and manufacturers is essential for the collection and processing of data to be done automatically, facilitating the decision-making process.
For this optimization to materialize, all organizations that are part of the supply chain must modernize at the same time, being able to provide quality data and consistently.
Do not forget that after being integrated into the system, machine learning must be constantly monitored by qualified professionals so that the company is sure that the data obtained are in accordance with the needs and expectations of the business and that they generate qualified information that indeed contribute to decision-making.
Conclusion
With the high volume of data to which we are submitted within a company, processing and analyzing them with conventional management tools has become inefficient. Thus, new methods are essential to maintain the full functioning of the industry.
Machine Learning makes it possible to optimize the supply chain using AI algorithms that quickly locate the most influential factors for the success of a supply chain, while constantly learning during this process.
Improving supply chain efficiency plays a crucial role in any company, increasing profit and making it easier to deal with challenges. On the Soluparts blog, you can find various contents on how to optimize the supply chain using technology.
With Soluparts, you also have a partner specialized in negotiation for the purchase of indirect materials. With a multicultural team and extensive experience in negotiating with suppliers, we are located in the most strategic markets in the world to facilitate your purchases. Contact us to find out more.
---
Big data: Optimizing the purchasing department
The term "big data" may seem like something you've heard before – and there's a reason for that. Since 2013, the theme has shown a high trajectory in terms of search volume and numerous companies claim to use it in the most diverse areas.

Source: Google Trends
The term appeared in 2005 for the first time, shortly after Roger Mougalas created another very popular term in that period, "web 2.0". As for big data, it is an ability to analyze exorbitant volumes of data, which could never be crossed using traditional data analysis methods.
In 2014, an article in Harvard Magazine argued that this new information processing was capable of changing the world. And how could that be possible?
According to the published material, the key to big data is not in the amount of data available – but in the immense quality of the insights generated from the processing of information using algorithms.
Gary King, a Harvard professor, already cited an effective example of this new way of processing data: that year, Google analyzed groups of search terms by region in the United States to prevent flu outbreaks. Although notable, the professor argued that this was a small fraction of what could be done, if companies were willing to invest in it and analyze their data.
Currently, the search giant in Silicon Valley has announced that it is helping US states to get the COVID-19 vaccine to more people more quickly. This is done through the Intelligent Vaccine Impact Solution (IVI) and has already provoked important results, according to the multinational.
Still, this is not a trend that companies have adopted quickly. In 2013, a study by the North American consultancy Bain & Company showed that only 4% of companies had the right mix of people, tools, data and intentions to gain valuable insights from the data.
Within the supply chain, there are also challenges to be overcome: hiring professionals capable of collecting data, as well as technology to capture and combine them. Still, important benefits can be reaped, such as the ability to project demands more easily, reduce failures, improve management and results.
In general, whoever first joined this trend, in different sectors, did well. According to the consultancy, when analyzing more than 400 companies, it was possible to differentiate them through the following advantages:
These companies are twice as likely to be at the top of financial performance rankings within their sectors
Five times more likely to make decisions more quickly than your competitors
Three times more likely to execute decisions as planned
The impact of big data in the purchasing department
Going deeply into the specific challenges for the purchasing sector, the North American consultancy McKinsey cites two main obstacles to the adoption of these tools in the sector: industry leaders have little or no affinity with analysis techniques used by data scientists; and the fact that companies lack a structured process to explore, evaluate and capture opportunities within the sector.
Regarding the potential for benefits to be obtained, the consultancy highlights two:
Expand the data set for analysis in addition to the traditional data maintained in the Enterprise Resource Planning (ERP) and supply chain management (SCM) systems.
Apply highly effective statistical methods to new data sources, combining them with existing ones.
Practically, the consultancy KPMG showed how the supply chains are using this type of technology on a daily basis: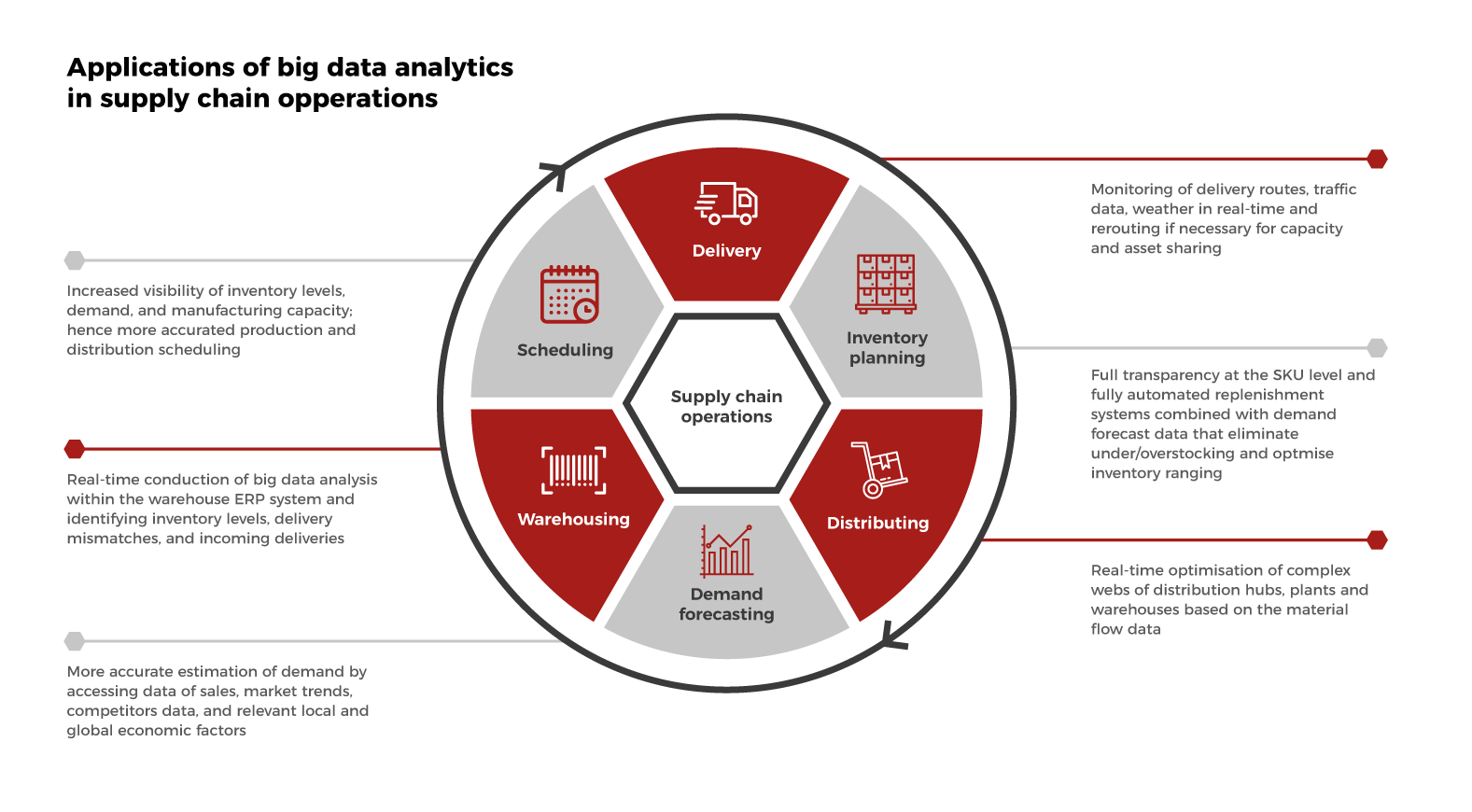 In other words: the supply chain of the future will have algorithms and data analysis as an essential point.
How to deploy? With "maturity models"
How to bring this discussion into practice? Through Maturity Models. There are different approaches as to how this could be done, but a study conducted by researchers on the topic highlights three:
The first is Charles Poirier's model: in 1999, he recommended that four steps be followed:
Supply and logistics: characterized by functional excellence and programs such as reducing suppliers, reducing inventory and reducing costs;
Internal excellence: use of activity-based costing and process management
Network construction: development of differentiated processes throughout the company and cooperative planning
Industry leader: extensive use of technology tools, supply and demand links and a global view
Then, Carnegie Mellon University defines the following steps: plan, supply, make, deliver and return.
Finally, the model adopted by the researchers, which consists of four phases:
1. Functional focus:
Few supply chain processes and data flows are well documented and understood. Organizational roles, responsibilities and partnerships with suppliers are not well-defined.
Basic information, which is not available across the organization, is collected electronically from many databases with limited access.
2. Internal integration:
Process-specific information is collected and shared within the factory using integrated systems and internal databases.
At this point, partnerships with suppliers are already well-defined and classified. Resources are managed at functional and cross-functional levels.
3. External integration:
The practices are now extended to the interface points with customers and suppliers, identifying the most strategic ones, as well as the main information that the company needs to support its business processes.
In addition, effective process collaboration with key customers is implemented and information is collected and shared electronically with parts of the value chain.
4. Collaboration across the enterprise:
Information technology plays an important role at this stage. Customers and suppliers work to define a mutually beneficial strategy and principles and define performance targets in real time.
Information technology now automates the integration of business processes in these companies, supporting a supply chain based entirely on strategy.
Big data applicability in the purchasing department
In addition to the topics discussed here, it is possible to follow the implementation of big data in the purchasing department through other materials produced by Soluparts. In addition to the core business of the areas and companies, with the adoption of big data, other departments can benefit from the massive and intelligent use of data.
One of them is compliance. Performing audits and standardizing processes can become much faster tasks with the use of data capable of bringing together different sources in one place, for example.
The standardization of processes is also a point that can be helped through big data, since the technology is able to gather structured and unstructured data in a single place.
With a more resilient data adoption policy, organizations also become more resilient. Again, big data is a natural consequence for companies that make the most of the potential of data and invest in Research and Development (R&D), helping them to become increasingly profitable and innovative.
Before investing in big data in your department be sure to read our article with tips to reap good results with the implementation of innovative trends: How to escape the herd effect.