Differences between Value-Focused Supply and the tradicional approach
Also available in:

Português

Español
Supply management has been constantly changing over the decades. A role that initially focused on continuity of production supply has moved on to take on competitive cost management and is currently looking for ways to add strategic value in all its phases.
This transition has been taking place in different ways, often faster in certain companies than in others.
As we mentioned earlier in our article Value-focused supply strategy: Why it matters and how to implement it, companies themselves will assess when and how they will apply value-focused supply strategies. We also mentioned the likelihood that VFS strategies are only applied to certain types of purchases.
However, traditional sourcing will continue to be important. Improving prices/costs will continue to be the dominant focus for traditional supply, according to research initiated by the CAPS (Center for Advanced Purchasing Studies) and A.T. Kearney, Inc, titled Value Focused Supply — Linking Supply to Competitive Business Strategies, which we'll continue to look at in this article.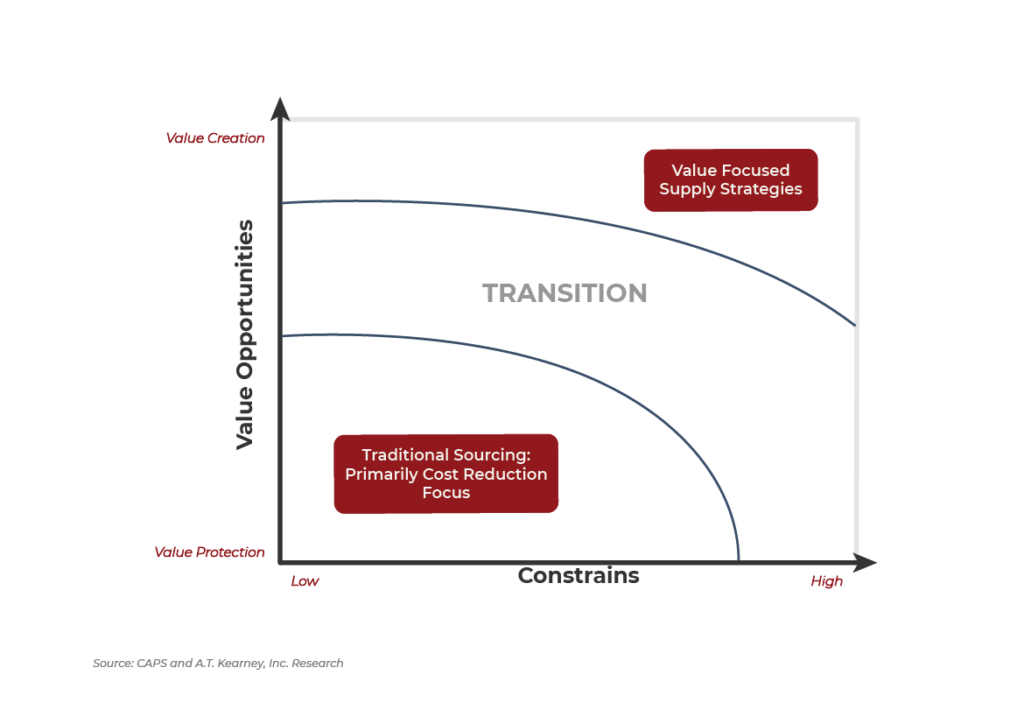 The trend is that in the future, traditional sourcing will be used to protect value in supply markets where there will be restrictions on supplier selection and supplier switching.
The biggest differences in competitive sourcing are in understanding macro and micro details of the requirements, markets, and fundamentals of suppliers in the strategic purchasing category.
Value-Focused Supply (VFS) tactics will provide the next innovation opportunity for companies to create and capture the value of their most strategic purchases.
Leading companies clearly already demonstrate the power of this broader approach. Senior executives who lead their companies are among the first to systematically apply VFS strategies across the entire supply chain. These will have the opportunity to protect and create significant competitive advantages.
But what does this mean? In summary, unlike the traditional approach, in a VFS strategy the company must:
assess the strategic role of the purchasing category in the company;

establish global goals focused on value for the category;

evaluate and select strategic sourcing options and

select and implement instruments.
A traditional approach is only capable of fulfilling two of these three goals. To ensure quality and on-time delivery, prices are typically high and can be reduced if quality and on-time delivery are compromised.
The approach of two of the three goals goes against VFS management where all three — quality, price and on-time delivery — must be expected with every purchase.
When a VFS strategy is necessary and how it should be implemented 
Value, in its tangible and intangible forms, is the most important factor for any business, and it is the mission of any organization to provide value to the customer, generating a competitive edge. Thus, we can conclude that, to remain competitive, a company must have a good strategy of value creation.
Value-focused supply strategies are needed to create solutions to problems (protect values) and also create value by taking advantage of current and future opportunities to improve the competitive position of the business and the production line (or lines).
A VFS strategy is needed when:
there are supply issues impacting end consumers,

adversely impacting the company's income and balance sheet,

negatively affecting product or service development.
VFS strategies are based on understanding the customer's needs and what they value most so that all the appropriate functions can work with supply management to apply resources to value creation.
As a result, companies must "think outside the box" of the traditional sourcing approach to implementing value-focused supply strategies. And how can they do this? Developing VFS strategies requires creativity and changing the dynamics of how the supply market operates or changes, changing how we work with suppliers and changing what we buy.

The importance of the Value-Focused Supply Strategy in the years to come
The future competitive environment will require companies to carefully assess when and how they will apply VFS strategies.
It is a fact that, in the scenario of the globalized and digital economy in which we live, a well-aligned supply chain strategy can not only help a business strategy but also drive it.
Conventional supply chain processes and operations are no longer able to meet the complex requirements of today's digital economy that demand, for example, agility, improved flexibility and resilience.
Cost savings will not be enough in the turbulent, uncertain business environment of the "new normal"
We've already covered this topic in other articles on our blog:
With increasing global competition in virtually every market, saving on external expenses alone will not be enough for a company to survive, or more importantly, prosper in the coming years.
Competitive sourcing remains a powerful tool for many spending categories. However, current market conditions require companies to provide more than just cost savings.
It is necessary that the supply network fully contributes to the company, through growth and innovations, use of resources, sustainability, risk management and competitiveness as a whole, as well as costs.
It is likely that VFS strategies in the future will be applied to purchases that prove to be great value creation opportunities in supply markets that pose significant obstacles, such as limited capacity, technological barriers or large capital requirements.
Finding ways to generate and exploit more value from supply markets is proving to be the purchasing department's new mission.
To identify, anticipate and respond to these needs, an ongoing organization must be developed to guide the company to compete through VFS.
Overall, leading companies will increasingly understand strategic suppliers as extensions of their organizations, making good use of resources and capabilities to together protect and create value.
There will also be a transition of selected purchasing categories from traditional sourcing to VFS as supplier markets become more complex or as greater potential to meet strategic needs emerges.
Also remember to have an international indirect material purchasing partner such as Soluparts. By delegating the search for parts with the best prices and deadlines, you can dedicate yourself to other demands, such as increasing the value of your supply chain.
Also take the opportunity to explore our blog, where we bring the latest trends for the supply chain.